ZMS production line
Specification:

1) Variety of products
This equipment affords to produce various-shaped products that can be used as inner packing for various consumables (food, such as eggs, fruits, bottled wine, canned products; for utensils, glass products such as glasses, glass instruments, lamps, photo frames, ceramics, plastics, handicraft etc.
2) The products are environmentally friendly
The production line uses pulp as raw materials, the finished product, i.e. dried paper tray has chemical content similar to this of paper and can be easily recycled. If you burn the products, then environmentally safe remains will do no harm.
3) Safety and usability
PLC controlled full production cycle, the computers secure high level of automation, safety and reliability. Convenient layout, good design, usability and long lasting time of exploitation are important features of this line .
4) Small investments in capital construction
The line has 4 main sections, including molding section, pulp preparation section, pulp feeding section and drying section.
5) Small operation area ZMS production line – 180m
2
.
6) Few stuff is required
The production run is very short, that's why no more than 6 workers are required for one shift
Section
N
Name
Sрecifications
Unit.
Amount
Main machine section
1
Automatic main machine
ZMS
Set
1
2
Mold
set
1
3
Vacuum pump
ZBK11
set
1
4
Air compressor
3W-2.2/7-C
set
1
Pulp supplying Section
5
Pulp making machine
1CBM stand
set
1
6
Sieve
set
1
7
Stirrer
set
1
8
Thick pulp plant
ZBJ1
set
1
9
Power cabinet
set
1
10
Deep well pump
XQ-50
set
2
11
Waste water pump
(2.5")
set
1
Drying section
12
Automatic drying tunnel
CTM-II
set
1
Other
13
Inner connection parts
set
1
14
Pneumatic ball valve
Dg 80
set
1
15
Pneumatic ball valve
Dg 25
set
1
16
Pneumatic ball valve
Dg 32
set
1
17
Cleaner
set
1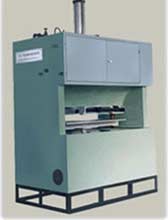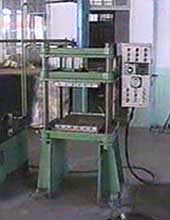 Main Unit ZMS Thermal forging press

Specifications for main ZMS sections
Pulp preparation section: Pulper (with motor 7.5 kW), max productivity 80 kg/hour.
Molding section: Main unit, die mold (shown in the table)
Model
Pulp vessel's
volume
area

Number of trays made for one run

molding Cycle (sec)
egg tray
320х240 tray
320х480 bottle tray
Apple Tray
Canned food tray
ZMS
1.48
900x460
3
3
2
3
3
11
ZMS main unit
Basic specifications: High automated line(Full computer control)
Power: 76.5 kW Max molding area : 1200х460mm
Production area: 180 m
2
Production cycle: 11-15 sec (adjustable)
Daily productivity: 15000 pcs. (egg trays)
Thermal forging press
Main specifications:
It is used for plastic added paper and pure paper
Size: 400x500mm
Operation method: pneumatics.
Period of cycling - 5 seconds.
Energy consumption: 9 kW
Air compressor
: Compression value on ZMS (engine 22 kW) 3 m
3
/min.
Vacuum pump
: 3 Engine - 11 kW,
Max productivity 6.5 m
3
/min, final vacuum 9.33*10 4pA.
Drying section
Drying stove:drying tonnel
ZMS production line workflow

Layout for ZMS

Raw materials (pulp) –paper laying device – thick pulp vessel– vibroselector- petty pulp vessel – ZMS main unit - drying tunnel– output – press (die mold) – final products
Productivity/hr


Model
Egg tray
320х320mm
Bottle tray (12 bottles)
320х240mm
Bottle tray (24 bottles)
320х480mm
Apple tray
500х350mm
Canned food Tray
400х310mm
Peach tray 500х400mm
ZMS
1000 (pcs.)
1000(pcs.)
720(pcs.)
720(pcs.)
1000(pcs.)
720(pcs.)

Resource consumption of ZMS line (1 hour)
| | | | | |
| --- | --- | --- | --- | --- |
| Model | Pulp | Water | Electricity | Vapour |
| ZMS | 84 kg | 0.8tons | 55kW | 520kg |
Our equipment uses recycled wasted paper, cardboard, carton, etc as raw material and it can make any kind of trays, such as egg trays, bottle trays (for bear, medicine, juice...), electric spare part trays, fruit trays (for apple, orange....) etc. Just need to change the moulds, but how many moulds are suitable? That depends on your request, our price list includes one set of moulds for 30 cavities egg tray, If you want to make the egg box (tray with cover), you need another set of molds.

The pulp molding equipment needs a boiler that connects with the drying system to supply heat (energy) to increase the temperature of the drying system in order to dry the product (egg tray). The price list of our equipment does not include the boiler. We have several types of boilers that include diesel oil boiler, electrical boiler, and coal boiler to meet your local condition. Please kindly let us know what type of boiler do you need and we will quote it for you.

Composition of ZMG pulp molding line
ZMG pulp molding line consists of 7 large construction systems:
1. Pulping system
2. Molding machine
3. Auxiliary equipment for molding machine
4. Dryer (Drying chamber)
5. Hot pressing machine
6. Heating equipment


Pulper
Productivity pcs/hr (see table)
Model
Egg tray
320х320mm
Bottle tray (12 pcs)
320х240mm
Bottle tray (24 pcs)
320х480mm
Apple tray
500х350mm
Canned food tray
400х310mm
Peach tray
500х400mm
ZMS
1000
1000
720
720
1000
720
Hourly indices and resource-consumption of ZMS line
| | | | | |
| --- | --- | --- | --- | --- |
| Model | Waste paper | Water | Electricity | Steam |
| ZMS | 84 kg | 0.8ton | 55kW | 520kg |
The equipment applies waste paper and cardboard as raw materials.It produces various types of packages such as egg packages, bottle packages (beer, juice, drugs), electronics spare parts packages, fruit (apples, oranges) packages.
It is necessary just to replace molds, so the question arises - how many molds can be used?
It depends on your order, our price include one set of molds for egg trays (30 pcs).
If you need to produce egg box, (the same tray with the cover) you need other set of molds and will also need a thermal forming press.
You will also need a boiler, connected to the drying system. The boiler is used for heat supply to rise the temperature of the drying system to provide drying of the products(egg trays).The price of our equipment doesn't include boiler.
We have several types of boilers, including diesel-operated boiler, electric boiler or coal-operated boiler.
Please, let us know what kind of boiler you need and we'll send it to you.
1. Advanced payment 40%, the balance is paid after checking but before shipment.
2. Delivary time : 50 days after receiving advance payment .
3. Installation and training :
The manufacturer provides installation and training at the customer's place. The customer pays air tickets and accommodations for engineers .
4. Warranty - 1 year.
5. Packing -standard export packing.

Configuration of ZMG pulp processing line
ZMG production line consists of 7 large construction systems:
1. Pulping system
2. Forming machine
3. Auxiliary equipment for forming machine
4. Drier (drying chamber)
5. Hot pressing machine
6. Thermal equipment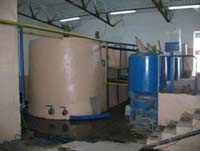 Pulper