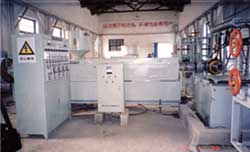 Heat insulated pipes are widely used in transportaiton of petrol and natural gas via pipelines, municipal hot water and heat supplying systems, water drainage during construction works .
The line has prominent heat -proofing properties as well as relatively low specific density, moisture adsorption, good water resistabce, anti-corrosive properties, frost-resistance, fire-resistance etc.
Under the temperature of 50-150 C wast industrial areas are provided with extra heat .
The line is equipped with melted plastic extrusion machine, extruding module,. water cooler, fixator, active and passive pipe bed control, pedestal with support bushing, foam-former, permanent temperature automatic control etc.

Special features:
1.

Process automation reduced the intensity of labor abd number of workers ;
2.Simultaneous performance of several operations including extrusion of a work-piece, feeding metal pipe, foam formation, cooling greatly increased the efficiency of labor

;
3.integral and flow line method reduced power consumption, saved usable operating areas, decreased material and power consumption etc

.
Main technical specifications:

| | | |
| --- | --- | --- |
| Model | SJ-120 | SJ-150 |
| Auger diameter (mm) | Ф120 | Ф150 |
| Length/diameter ratio | 25:1 | 25:1 |
| Auger rotations (rpm) | 10~50 | 10~40 |
| Engine power (kW) | 45/55 | 55/75/100 |
| Heating power (kW) | 30 | 50 |
| Bed capacity (kW) | 4( 4 rolls) | 4(4 rolls) |
| Bed capacity feeder power (kW) | 2.2 | 2.2 |
| Aspiration plant power (kW) | 2.2 | 2.2 |
| Foam former (L) | 9 | 9 |
| Productivity (kg/hr) | 100~150 | 150~300 |
| Pipe standard (mm) | Ф25~273mm | Ф426mm |
| Outer size L х Wх H (m) | 30×4.5×2.5 | 35×5×2.5 |
| Weight (kg) | 6000 | 8000 |