Main unit's features :
LJUCWCZY-A Fully automents lamination machine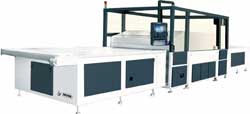 Basic qualities and technical features:
Power-supply source: 220V 50HZ
Laminating board size: 3500*2200mm
Electric power: Three phases AV 50HZ 380V
Aggregate capacity: 95 kW
Heating method: oil heating,rated power of the heating part – 72kW
Temperature control limits: 30 -180 C
Temperature error: ±1
Regularity of plate heating temperature ±2 C
Weight: about 15 tons
Air deflation rate: 70l/sec.
Environment: Ambient temperature: 0 - 45
relative humidity <90%
orthometric height: 2000 m

LSUWBZ-2000 solar cell panel framing machine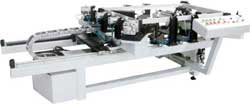 Basic qualities and technical features:
Frame: Max outer size: 1200*2100mm
Frame: Min outer size : 700*700mm
Max outer size 3000*2100*1000mm
Frame error: Edge size error : ±1mm
Angle size eror : ±1.5mm
Four angles angular degree : ±0.5
Operating atmospheric pressure : 0.4Mpa-0.7Mpa
Weight:-about 1 500 kg
LBUMBQ1000 film cutting machine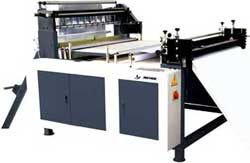 Automatic cutting
Photo-electric control
Automatic feeding of materials
Basic qualities and technical features:
Max cutting width : 1000mm
Max cutting length : 2500mm
Cutting speed : 3-10 sec/piece
Total power : ≤2.5kW
Outer size : 5000*1300*1550mm
Roll diameter : ≤ 550mm
Weight: about 600kg
Automatic gluing machine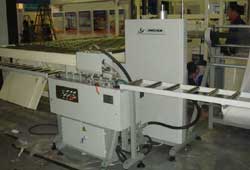 Oil pressure .
Glue pressure outlet is adjustable.
Conveyor's movement speed is controlled by frequency converter .
Automatic feeding, glue-feeding stop is adjusted by photoelectric control .
Engineering data :
Power-supply source: 380V/50Hz
Conveyor's engine power : 0.12kW
Hydraulic actuator power : 1.1kW
Gas pressure : 0.6Mpa
Size of the mahined structural stock : 400 – 2000mm
Outer size : 5000*800*1600mm