Name
Model
Quantity
Machine size (mm)
Power (kw)
Weight (kg)
Notes
I. wood chips productiom
Wood cutter
BX213
1
1750x850x1150
32
2500
Can be replaced by BX119 model
Belt conveyor
BZY1150-20
1
20000x800x700
8
2500
Wood chips bunker
BLC11120
1
35000x3500x 3500
2500
2. Fiber production
Thermal abrasion
BW127
1
2500x1000x1200
186
6000
QM6 improved model
Preliminary termal treatment
1
1200x1200x3500
10
1500
Wood chips receiver
1
1200x700x3000
30
2500
Balance for glue
BS22
1
1000x800x600
2.2
300
Sprayer with water isolator
BS22
1
1000x800x600
2.2
300
Old fiber separation system
1
300
3. Drying
Hot air ventilator
BR150
1
4000x2500x5000
24
15000
Main ventilation machine with electric devices
1
2000x3500x2200
110
5000
Air jet dryer
1
750x100000
5500
Air separator
BFL1230
1
3000x3000x7000
4.5
2500
Temperature control during drying
1
Bunker for fibers
BLC320
1
8000x2000x2000
11
1500
4. Carpet formation
Molding machine
BP2113
1
2000x1800x3500
5.5
1500
Billet transportation system
1
2300x1000x 15000
13
4000
Preforming machine
BY8313
1
2500x2500x3000
3500
Surface leveling machine
1
300x2000
3
1000
Side wall cutting machine for billets
1
3000x500x2000
4
1000
Sidewall leveling machine
1
2.2
Return system
1
15
5. Thermal pressing
Loader
BZ114x5
1
2600x4000x2200
8
5000
Thermal press
BY144x5
1
4500x2600x2700
90
35000
Unloader
BZ114x5
1
2600x4000x2200
8
5000
Cooling machine
BB1
1
2000x700x3000
3
1000

6.

Subsequent operations
Transverse sidewall cutter
BC2114
1
3000x2000x800
9
1000
Longitudinal side wall cutter
BC1114
1
2000x2000x800
9
800
Polishing machine
BSG2314
1
2000x2500x2500
85
4000
Dust return system during polishing
1
800
1 cycle
7. Electric system of control
General electric system of control
1
8. Spare parts and equipment to be purchased by the Customer
Boiler
1
4000 kg/h
Hydraulic oil
30#
2000
Different sets of electric equipment
1
500
Steel basis for mounting and fastening
1
1.1. Flow chart and layout of production line of 10 000 m3/year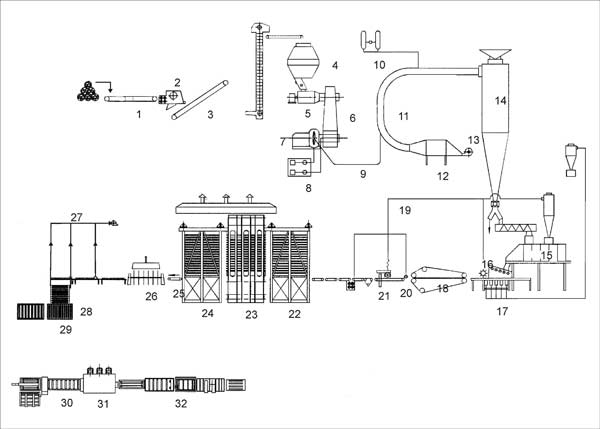 Conventions
| | |
| --- | --- |
| 1. Belt conveyor | 17. Racker |
| 2. Wood cutter | 18 Compacting machine |
| 3. Belt conveyor | 19. Fiber system |
| 4. Raw materials bunker | 20. Saw machine |
| 5. Wood material pusher | 21. Side wall cutter |
| 6. Blancher | 22. Assembling machine |
| 7. Thermal polishing machine | 23. Press |
| 8. Measuring paster. | 24. Unloader |
| 9.Separator | 25. Unloading device |
| 10. Drying measuring system | 26. Cooler |
| 11. Fiber dryer | 27. Polishing system |
| 12 Heat exchanger | 28.Vertical cutter |
| 13. Main air duct and electric machine | 29. Horizontal cutter |
| 14. Fiber separator | 30.Elevator |
| 15. Bunker for raw materials | 31. Polishing device |
| 16. Equalizer | 32. Dumper |

5000 m2 and 10 000 m2 productions lines are assembled by similar type of machines of similar assembly.
The machines for 10 000 m2 are of higher productivity Lamination lines are not in the set of MDF production line The assembly of machines is similar to that for the line of 5000 m3 .
Energy consumption of the line of capacity of 10 000 m3 is 60% more than that of 5000 m3/year.

1.2. MDF LAMINATION LINE. PRODUCTIVITY – 5 000-10 000 m3 year



Conventions
| | |
| --- | --- |
| 1. BTB4x8 automatic board pusher | 6. BZY4919/5 conveyor |
| 2. BSJ124x8/2 Hydraulic lifter table | 7. BZX124x8/1 board feeding machine |
| 3. BSQ4x8Double side board cleaning machine | 8. BY664x8/9 lamination thermal press |
| 4. BZY3921/4 conveyor | 9. Hydraulic system for thermal press |
| 5. BCZ4x8/2 winder machine for double side lamination | 10. BZY3815/4 conveyor |